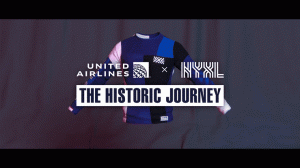 To announce the partnership between NYXL and United Airlines, we were sent an exciting creative brief from the Andbox team. They were creating an incredibly limited run celebratory jersey that was designed by stitching together all of the previous NYXL Jerseys.
We needed to create an accurate 3D model of the celebratory jersey. Additionally, we were tasked with designing a 3D sequence that showed fragments of the previous jerseys being pieced together.
Once we'd crafted the 3D components of the campaign, we matched some of the most recognised Overwatch League moments from each year with the respective jerseys.
The final video mixed in airline inspired motion footage and sound effects to tie it to United Airlines.